Siniša Galić: One Film, Two Cities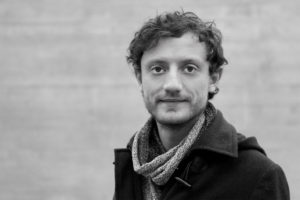 Recent Australian premiere of German-Serbian film Open Cage directed by Sinisa Galic (Siniša Galić) is truly special event, considering how very few screenings of movies from that region are held in Australia. Serbian films are usually screened at festivals organized and followed by Serbian diaspora in Australia, while Film Society Euraw Stories from Melbourne presented Open Cage with English subtitles to the Australians of all origins. Our partners from Euraw Stories also organized through Skype a short talk of director Sinisa Galic for Australian audience. Numerous visitors were full of impressions after the screening in Melbourne and the whole event went great.
Open Cage had its European premiere in Berlin and Belgrade. After that it was screened at Film Festival in Sopot (Poland), at Kustendorf (Serbia) organized by famous Serbian director Emir Kusturica and other renowned festivals where it was awarded with several prizes by jury and audience. Open Cage will also be remembered as the last film and premiere for legendary Serbian actress Ruzica Sokic (Ružica Sokić). This movie is also interesting because it was made in German-Serbian co-production and filmed in Serbian, German and English language in Belgrade and Berlin. Sinisa Galic is connected and very fond of both of those cities, considering he lives in Berlin since childhood and also lived in Belgrade for a while. What makes success of Open Cage even greater is that fact that it is Sinisa's first feature-length film, completed in spite of many challenges and obstacles.
Sinisa is born in Tuzla (Bosnia) and lives in Berlin since he was 8. He graduated there at the faculty for Audio-visual media and cinematography. After winning scholarship for further studies, he used it for studying film and television directing at Faculty for Dramatical Arts in Belgrade. Beside Open Cage he directed several short films and documentaries. He lived in few European cities, but Belgrade and Berlin are his creative and private basis. That helped him a lot when he was gathering the cast and crew for film Open Cage, mostly made of artists from Serbia and Germany, but also from Bulgaria, USA and other countries. Together with Jelena Ruzic (Jelena Ružić) Sinisa also wrote a scenario for this movie. 
You said once that you got great inspiration for writing "Open Cage" scenario from incredible similarities between Belgrade and Berlin, where you live most of your life. I share that impression and Berlin reminds me of Belgrade of my childhood during 80's, Belgrade as a place of creativity, bohemian lifestyle, richness of spirit… Where do you find those connections and similarities between these two cities?
I think Berlin and Belgrade are similar on many levels. Both of these European cities have turbulent history which left vivid marks, but luckily not only negative ones. They are related in spirit too and I have impression that Belgrade went through similar phase in 2000s like Berlin did in 90s. Some new energy emerged and moved new generation, artists and musicians, but also attracted many visitors. These dynamics of new beginning has its charms, but also limited duration. The spirit of the city lives as long as people believe in their city and want to shape it through their way of life and work. There are also similarities in architecture of Berlin and Belgrade because of influence of East and West, which is especially interesting in Belgrade. Every journey to Belgrade is very inspiring for me in a first place thanks to open-minded people I met there in recent years. In a meanwhile many important and precious friendships developed from those encounters and that will always be my bond with Berlin and Belgrade.
What was filming of Open Cage like? Any special memories from the process of making your first feature-length film?
Filming "Open Cage" was great and important experience for me, especially because it was my first feature film. For me our greatest success weren't selections nor awards, but the fact that we believed in our idea of film and followed it through. There are numerous scenarios which are never filmed or completed especially when it comes to the first or second films by young directors. In spite of all challenges we firmly believed in our project and that is the reason of our success. Of course, filming was team work and I was lucky to gather very dedicated cast and crew in Berlin and Belgrade. They really believed in the project. It was not only great professional, but also life experience for me. Cooperation between filmmakers from Serbia and Germany was pretty much unusual situation for both sides, but all the members of cast and crew clicked and understood each other very quickly, no matter their origins or the language they speak. Some of them are friends and visit each other untill this day separately from me. That is also result of our labour on a personal level and something I remember of gladly.
Beside many nice friendships during Open Cage filming members of cast and crew from Germany also developed connection with Serbia and visited it several times even after finishing their job on a movie. What did they like so much and makes them return to Serbia?
I reckon that young people generally like change and new experiences. From that point of view every journey is very interesting if you are open to a country and people you meet. It seems to me that the members of our team from Berlin especially like openhearted and hospitable mentality of people they met in Serbia. Perhaps Berliners found in our society and way of thinking something they like or even miss in their surroundings. I think they were surprised in a positive way seeing and experiencing something that doesn't match with unrealistic image of Balkans created and placed by media for years. On the other hand, that also goes for Serbian members of team who also broke some prejudices about people from Germany. It's always good to know people personally.
The premiere of Open Cage was held in Berlin and after that there were several successful screenings and awards in Belgrade, at Kustendorf and other renowned festivals. How much recent Australian premiere in Melbourne and cooperation with Euraw Stories Film Society means to you?
I'm happy every time the new screening of Open Cage happens. Screening in Australia is something special for us of course, because it's interesting to find out how Australian audience reacts. I am very pleased that Australian premiere of the film was held during the Cultural Diversity Week. It is generally very nice that the Euraw Stores team engages on screening European movies that are not mainstream. Euraw Stories Society actually gives people in Melbourne great opportunity to see some films they would hardly have a chance to watch at cinema otherwise. Big thanks to the Euraw Stories team for everything they do!
How much are you familiar with Australian film? What is your image of Australian cinematography?
I have to admit that I'm not an expert for Australian film. From that part of the world I know well and like films by Jane Campion and Taika Waititi, but as far as I know they are originally from New Zealand. Of course, I saw at film festivals several films made in coproduction with Australia, but all in all it is not very often to find Australian movies at cinema repertoires in Europe. I believe there are numerous great movies from Australia and hope to get a chance to see some of them in the future.
Which place or perhaps places feel(s) like home to you or from some other reason you mark them especially on your personal map, considering you lived in various cities and travel often?
Yes, that's right. I spent most of my life in Berlin. I also lived in Belgrade and France for a while. It's a great luck I could usually chose where I will live. Not all people have such possibility and I'm very grateful I had freedom of choose. Of course, all the cities and places have its good and bad sides. It's important that one feels pleasant where ever one lives and to have a possibility to do the job he loves, have a chance to accomplish something. I don't identify myself with any country. I didn't do anything special for any country, not they did for me. What is clear and indelible is my spiritual identification with the region where I was born and people from which I originate. I think we can and should be proud of our creative people, who gave positive contribution to our society, and not of those who lead them in wrong direction. My home is where my family is and where my closest friends are. The fact we all move from time to time doesn't change the fact that we know where we came from.
What are your current projects? May we expect a new movie anytime soon?
We finished recently new short film "Bon Voyage" (Sretan put( which will be screened at 64th Short And Documentary Film Festival in Belgrade. I hope this new film will have interesting festival life too. The most important thing is that film travels and people to watch it. That's why we made it. Currently we are working on a new feature-length film and it is very complex story, so it'll take some time, but I'm sure we'll complete that project too. Everything in its own time.
Australiana Serba
https://www.australianaserba.com/sinisa-galic-one-film-two-cities/
https://www.australianaserba.com/wp-content/uploads/2017/03/Galic_Sinisa_director-1024x683.jpg
https://www.australianaserba.com/wp-content/uploads/2017/03/Galic_Sinisa_director-150x150.jpg
EuRaw Stories
Australia,Australian premiere,Belgade,Berlin,Euraw Inc.,Euraw Stories,Film Festival Sopot,Germany,Jelena Rakocevic,Kustendorf,Leni Wesselman,Melbourne,Open Cage,Otvoreni prozor,premiere,screening,Serbia,Sinisa Galic
Recent Australian premiere of German-Serbian film Open Cage directed by Sinisa Galic (Siniša Galić) is truly special event, considering how very few screenings of movies from that region are held in Australia. Serbian films are usually screened at festivals organized and followed by Serbian diaspora in Australia, while Film...
Australiana Serba
australianaserba@gmail.com
Administrator
Australiana Serba