Leni Wesselman: The Land Where People Sing With Their Eyes Closed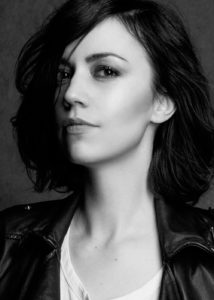 Photos by Danilo Pavlovic, Jacek Szycht and Stefan Klüter
Leni Wesselman is young German actress who already played leading roles in European movies. She had a debut with the leading female role in the psycho-drama "Mein" directed by Detlef Bothein. This film had it's premiere at the World Film Festival in Montreal (Canada). Since then Leni played various roles and won several awards for her acting. Recently she started even directing short films. This time we are focusing on movie "Open Cage" where Leni plays one of two leading roles, because this film has its Australian premiere on March 19th in Melbourne thanks to Film Society "Euraw Stories"! This film directed by Sinisa Galic had its premieres in Berlin (Germany) and Belgrade (Serbia) and was also screened at prestigious film festival Kustendorf whose founder is world famous Serbian director Emir Kusturica. "Open Cage" won various awards at European film festivals and some of them belong to Leni for the best leading role. In this film Leni plays German photographer Anna who travels to Belgrade to make story about refugees, but instead decides to make photo-story about Maja, Serbian girl who dreams to live abroad. If you happen to live in Melbourne and buy your tickets in time, you may find out what this exciting, poetical film is all about very soon! Don't miss that opportunity! Leni Wesselman fell in love with Serbia and made great friends there. She lives in Berlin and Munich in Germany, but Belgrade became her second home after filming "Open Cage". Perhaps this film inspires you too to discover Serbia, Germany and its cinematography or to learn more even if you are familiar with it!
 What it was like for you to cooperate with the director Siniša Galić and to film "Open Cage"? How would you describe the whole experience?
We met some years before the "Open Cage". Siniša was sending me regularly versions of his script in a very early stage of the project and we were discussing the text and the roles, so I was involved from early on. I could watch the story and my role grow. It was a good preparation for my role to think through it so early. We did test screening and then decided that I will play the role of Anna. Of course, shooting was not always easy, with almost no budget for a feature movie and it was very, very hot, exhausting and challenging for everybody. But at the same time it was really special and precious time and I met a lot of great people. I have many fond memories of this time and every single person I met on this set. It was an adventure for me, hard but also beautiful. And I really have a huge respect for the way that Siniša fought through and managed to finish this movie and to realize his vision in spite of all difficulties.
How do you remember screenings in Berlin, Belgrade, Drvengrad (Kustendorf)…? Can you point out some special moments and encounters from some of these happenings?
I have very beautiful memories of that, because every screening was an opportunity to meet at least some of the people from the crew and that was always wonderful. There were a lot of beautiful screenings. One screening was in Belgrade in the summer. I was coming back to Belgrade for the first time after shooting and it was really incredible to meet everybody again. We had a great screening and after that went to a festival nearby the city, where the film was also screened. That festival was organized outdoors under the stars, it was a warm summer night and all of us danced and had a great time there after that second screening. It was amazing in Niš too when Jelena and I received awards in front of 3 thousand people at the old fortress. That was also a moment I will never ever forget in my life. Then it was very exciting when the movie was screened in Sopot in Poland and I was driving car all alone 9 hours to get there, because I missed a train. When I finally arrived to the award ceremony, I was completely exhausted. We won the audience reward, it felt totally unreal.
What was your image of Belgrade and Serbia before filming "Open Cage" and how it changed afterwards? How much did that significant period of time you spent in Serbia during filming and screening this film affected your image of this country?
The first time I came to Belgrade it was November, around 7 month before the shooting. We were filming a teaser and having castings for the role of Maja. I remember exactly every minute of my arrival there. It was already night and there were problems with plane. It could not land because of the fog. The pilot had to stop the landing two times and we were circling above the airport for over 40 minutes. I was already quite exhausted when we finally landed. The first impression wasn't that good. It was very dark, cold and foggy and somehow very foreign for me. While driving in a cab with my hosts I thought all the time that guys are arguing and could start a fight any minute. They would be very irritated every time I asked if everything was fine and of course it always was according to them. (giggle) The weeks of filming changed everything. It was summer and I met a lot of very friendly, warm and special people who worked on the movie too. I started to love differences between the countries and learnt a lot about people and their stories and backgrounds. Now Belgrade feels to me more and more like kind of second home every time I go there.
We are told many of you from the Open Cage crew bonded and developed nice friendships. What are your fondest memories of Serbia and its people? Would you like to come again any time soon?
Yes, that's true. The filming of "Open Cage" was the beginning of some real and deep friendships. I'm traveling to Belgrade often. Ahem… I love when everybody is singing in "kavana" (local kind of pub) with their eyes closed and completely loud. I love the zest and profoundness of those moment.
I really like how important friendship and family are and really matter in Serbia…. Of course, it's very important in Germany too, but sometimes in a little bit different way. It's actually hard to explain.
Can you tell us more about your latest roles in Als wir traumten, Der Wald and other film and television projects in Germany?
Yes it was a big thing for me to have a small part in Andreas Dresen's "As we were dreaming" (Als wir traumten). I just finished the filming of a TV movie. Der Wald is still in postproduction and not finished yet.
Australian premiere of "Open Cage" is on March 19th in Melbourne. How much do you follow Australian film? What are your thoughts on it and Australia in general?
I have never been to Australia, but I would love to. Ahem… I love movie "The piano", which is partly Australian. And of course I was watching Crocodile Dundee when I was a kid. I am looking forward to watch Lion soon, but I don't know enough movies to have a general thought or feeling about Australian movies.
What are some projects you are currently working on and what can you tell us about it? And if it's not too much to ask, what inspires you these days?
I am preparing for some very interesting movie projects in summer and I am working on my own little movie, a fairy-tale about fear.
Ivana Nikolic
Australiana Serba
https://www.australianaserba.com/leni-wesselman-the-land-where-people-sing-with-their-eyes-closed/
https://www.australianaserba.com/wp-content/uploads/2017/03/IMG_9284w_Leni_cut-1-e1489811895179-972x1024.jpg
https://www.australianaserba.com/wp-content/uploads/2017/03/IMG_9284w_Leni_cut-1-e1489811895179-150x150.jpg
EuRaw Stories
Australia,Belgrade,Berlin,Euraw Inc.,Euraw Stories,Germany,Jelena Rakocevic,Kustendorf,Leni Veselman,Leni Wesselman,Melbourne,Nenad Okanovic,Open Cage,Serbia,Sinisa Galic,Sinisha Galich
Photos by Danilo Pavlovic, Jacek Szycht and Stefan Klüter Leni Wesselman is young German actress who already played leading roles in European movies. She had a debut with the leading female role in the psycho-drama 'Mein' directed by Detlef Bothein. This film had it's premiere at the World Film Festival in...
Australiana Serba
australianaserba@gmail.com
Administrator
Australiana Serba