Brigitta Karadjordjevic: The Princess With Noble Heart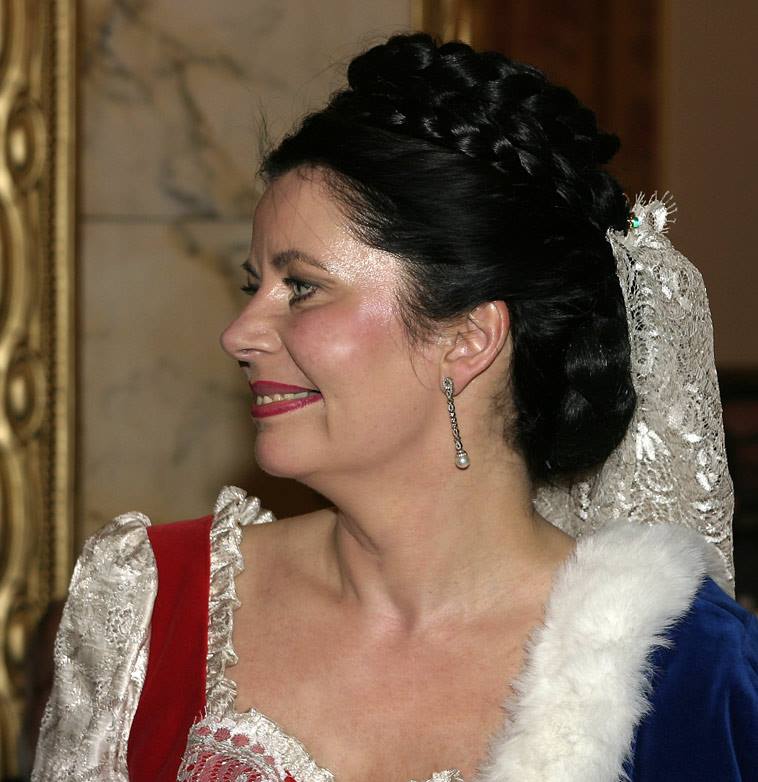 Text: Ivana Nikolić
Photo: Personal archive of Princess Brigitta Karadjordjevic
HRH Princess Brigitta Karadjordjevic is the lady of luxurious talents and extraordinary education. This renowned artist became internationally recognized as the fashion designer in a field of haute couture in early 90's. Besides that, she is a successful business woman and runs her fashion company. There were many famous brands among her clients, but she prefers high fashion and designing the unique pieces of clothes for her private clients. Princess Brigitta is very talented painter as well and exhibits her paintings occasionally. She also learnt iconography in Russian monasteries. Her Royal Highness is considered for one of the most beautiful princesses of nowadays, but her inner beauty and nobility is what makes her truly special. She is engaged in charity work with passion and devotion for over 25 years and runs Mother and Child Relief Foundation together with her husband HRH Prince Vladimir Karadjordjevic. It is hard even to name all the children, schools, hospitals and other people and institutions they helped through this Foundation. TRH Princess Brigitta and Prince Vladimir recently started collecting documents for new charity, so they could help more to educational institutions and talented individuals as well. Kindness is what brought them together in the first place in the time when princess didn't know much about Serbia and yet even back then she was active in collecting aid for people affected by wars in ex-Yugoslavia. Coming from middle class German family she travelled a lot around the globe since childhood, but she got to know and fell in love with Serbia after she met Prince Vladimir, the son of Prince Andrej and grandson of King Aleksandar I Karadjordjevic. Their love story brings back faith in true love even to sceptics, but the story about Princess Brigitta's love for Serbia is equally special and touching. People from Serbia abundantly return all the love and respect to her and she is one of the most loved Serbian princesses of our age because of her modesty, sophistication, warmth and other virtues. Our first question for the princess was how it all started.
Your Royal Highness, how do you remember the first time you met His Royal Highness prince Vladimir Karadjordjevic and the beginning of your love story which was full of twists and turns like in some exciting novel or film?
Prince Vladimir and I first met each other at a charity event organized in Germany to help the victims of the war that was then taking place in Bosnia. This was back in 1993, exactly on the 18th of April. I had already been involved in collecting humanitarian aid for the former Yugoslavia for some time before then and on this occasion I was working with a wonderful group of Kolo Srpski Sestara. Together, we had been working on a humanitarian collection for the victims of the then current conflicts in Bosnia, which was an extremely awful episode in the entire conflicts within the former Yugoslavia. As a small celebration of our success in collecting our aid, a little charity party was organized to which I was invited. At the time of the invitation I was told, "our prince will come." I must confess that I had no idea of who they were talking about but when Vladimir and I met that evening, it was love at first sight! We talked excitedly the whole evening but unfortunately, that evening went by far too quickly. We did exchange addresses: Vladimir Karadjordjevic from London!
The next day I was invited to a restaurant for lunch. There were many people there, including, of course, Vladimir Karadjordjevic. At that time this name was a tongue breaker for me, I could certainly not pronounce it anywhere near correctly back then. Vladimir sat far away from me at this lunch, only our eyes met, but we had no way of talking to each other. It was very frustrating but of course, he was there to be with everyone and not just with me. When he said goodbye that afternoon, he told me that when I came to London, he would like to invite me and I should simply call him. I remember thinking "what a cheek"! I would never "simply call" a strange man in a foreign city! I thought to myself that If Vladimir did not call me, he could wait for a very long time indeed.

As it happened, it was a very long time before we saw each other again. In truth, this was very much to do with our individual extremely hectic and full lives we both led at that time. Vladimir was constantly travelling to the former Yugoslavia, heavily involved in his humanitarian work, and having to work in order to make a living. I was already them deeply immersed in my own business and having to juggle a very demanding career with my other duties, and still try to have some sort of private life too. Thus, six years passed from that wonderful evening when I first met Vladimir to our next meeting. I remember it like yesterday – I was on Hawaii with my girlfriend and her little son for a few weeks, when the news of the end of the illegal NATO bombing campaign in the former Yugoslavia reached me. I wanted to help and so I called a number of different people, who unfortunately all had other plans. When I looked through my address book, I found the address of Vladimir, and remembered that he had taken care of all the paperwork for the past humanitarian transports which I had collected aid for. I immediately wrote him a fax and asked for his help. Only a few hours later I had his positive response and we decided to meet on my return journey from the Hawaiian islands to the airport at Heathrow in London. So, I flew some time later from Kuwaii to Honolulu, from Honolulu to Los Angeles, where I had a few days stay for business, and then continued to London to meet Vladimir. I was exhausted as I could not sleep a second on that flight to London. When I landed and passed through customs I realized that Vladimir and I would only have an hour and a half in which to talk. I did not even know if I would recognize him, or if he would even recognize me. After a few weeks in Hawaii I was burned dark brown. My hair was wild and had red strands of the sun. I actually do not even remember what I was wearing. But I remember very well indeed that when I came out of the customs area, Vladimir was already there and we immediately recognized each other. It was love at the second sight! In those precious one and a half hours, we founded our charity organization, "Mother and Child Relief Foundation", we organized a charity event through which to raise money and collect humanitarian aid for the war victims, and we even planned our lives together without actually realizing it at that stage. Exactly one and a half hours later I was sitting on the bus to another airport in order to catch my connecting flight back to Germany!
To most of people becoming a princess or prince is something quite romantic and exciting. How much did you know about Serbia and its royal family before you met Prince Vladimir? What were your first impressions at the time you started to learn more about Serbia and Karadjordjevic family?
I must confess that before I met Vladimir I knew very little about Serbia and even less about the Royal Families of Serbia or Yugoslavia. I remembered my geography from school, where we very briefly learned about Yugoslavia. I also knew that a very large number of Germans went on holiday to Yugoslavia, but I was personally never there at that time. I do remember, even back then, hearing from certain people about how lovely it was in Yugoslavia. For some time after meeting Vladimir it seemed as though I did not need any books on the history of the former Yugoslavia or its royal histories as the best teacher for me was my husband. I remember that one of the first books I read about Yugoslavia was the very wonderful writings but extremely sad book by the author, Kurt Koeprunner, an Austrian National married to a Croatian lady. This book, "Travels through the land of war", was given to me by a wonderful lady I had met at our Serbian Orthodox church in the city of Bielefeld, in Germany, and it was another very brutal lesson in the plight of the Serbian nation through history, especially at the hands of the evil Ustasa!
Regarding the possible romantic or exciting aspects or emotions upon becoming a princess, I would have to say very openly and honestly that I cannot remember anything like this, not in the typical concept. I had simply met a man who I fell in love with and we got married. I think that my feelings were more those of pride, closely followed by a very sincere love of the Serbian people. It is perhaps a little difficult to explain as it all happened relatively quickly.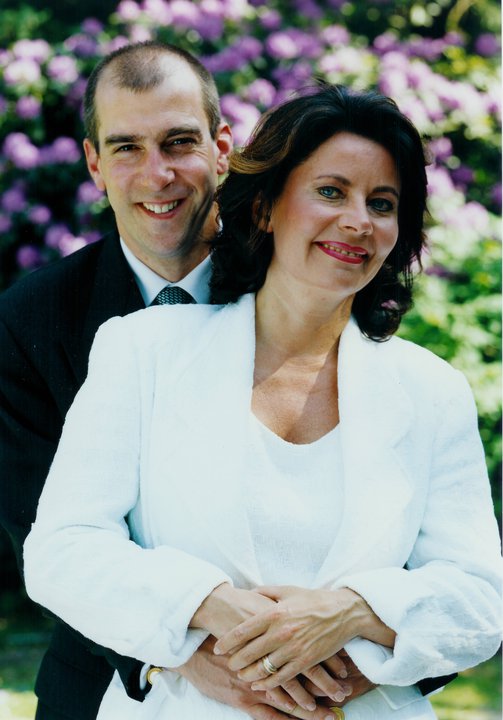 You see, Vladimir and I knew very early on that we loved each other and wanted to spend our lives together, and therefore we did not waste any time in becoming engaged. We did this as soon as we had our first success with our charity, "Mother and Child Relief Foundation", towards the end of 1999. It was very shortly after this that I first met Vladimir's close family, Dimitri, Lavinia, her children, Nadja, Andrey, and Luka, Lavinia's husband Austin, and a very special person for me, Vladimir's mother Kira!  Our f collective friendship were forged very quickly. Princess Kira was like me, but I have lived in England for many years and through our linguistic connection we enjoyed our conversations very much in my native language. Kira was German, but her mother tongue was Russian. Over time, I heard her tragic life story, which was also closely connected with world history. I was and am a fashion designer and had learned painting. For history, I had always been interested, but I had always had the time to deepen this topic and also politics. I had so much to learn and in time Kira became my teacher. Our wedding took place on 18.4.2000, in a very modest setting, only with our mothers, Princess Lavinia, Austin her husband and the children. Our wedding had made a lot of eddies in Germany, which I had to get used to. The first time we visited the church community in Bielefeld with a TV broadcast. This was a wonderful introduction for me to Serbian hospitality and friendship!
What are your fondest memories of your numerous visits to Serbia? Which places do you like the most in your homeland?
Many people ask me this question and it is always so very difficult to answer the first part because I have been truly blessed in being able to see so many parts of Serbia and each and every visit to one place or another has left its own lasting impression on me. In truth, if you measure the entirety of Serbia, I have probably only seen 10% of this beautiful country, if that. But still, this small portion equates to over a hundred visits to different places since my first trip to the former Yugoslavia. Serbia is such a magical country, for so many reasons. The indescribably beautiful different landscapes, the incomparable smell of nature and the hospitality and friendliness of the people is unparalleled. If I were only allowed to pinpoint one or two memories, I would like to mention our journeys to the various monasteries over the years. These many monasteries, which we have been so lucky to visit, will always remain an unbelievably refreshing oases for my husband and myself. I love our monasteries with the Nuns and monks who, for me, are the jewels of our Orthodox Church. (continuing on the next page)
Australiana Serba
https://www.australianaserba.com/brigitta-karadjordjevic-the-princess-with-noble-heart/
https://www.australianaserba.com/wp-content/uploads/2017/10/Princeza-16.jpg
https://www.australianaserba.com/wp-content/uploads/2017/10/Princeza-16-150x150.jpg
Interview PLUS
Australia,Belgrade,Brigita Karađorđević,Brigitta,Brigitta Karađorđević,Brigitta Karageorgevich,Charity,haute couture,Karadjordjevic Family,Karađorđević,London,Mother and Child Relief Foundation,Prince Vladimir,Prince Vladimir and Princess Brigitta,Prince Vladimir Karađorđević,princess,Princess Brigitta,Princess Kira Melita of Leiningen,Princeza Brigita,Romanoff,Royal,Royal Family,Serbia
Text: Ivana Nikolić Photo: Personal archive of Princess Brigitta Karadjordjevic HRH Princess Brigitta Karadjordjevic is the lady of luxurious talents and extraordinary education. This renowned artist became internationally recognized as the fashion designer in a field of haute couture in early 90's. Besides that, she is a successful business woman and...
Australiana Serba
australianaserba@gmail.com
Administrator
Australiana Serba